Agenda Next Trend Studio live broadcast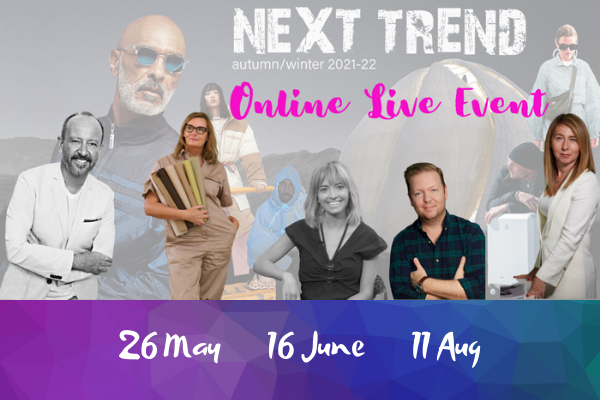 Live Broadcasting by Next Trend Studio AW 21-22 season 

The agenda is now published, it is time to book and plan your Next Trend event day!  We challenge the Design Industry to boost your design, product, range, marketing and strategy teams, when nobody can travel it is even more important to joing adaptive forecasting: we bring the event & speakers to you. Sign up once and you get access to all 3 occassions. We offer tickets Single view (per person) or Unlimited Company view (includes single view for those who work home-based for instance). Welcome to invite your international partners to sign up, for the first time it's easy for them to join! Everyone is welcome as Next Trend has gone global!

Under the abnormal circumstances due to covid-19, Next Trend Studio delivers the seasonal loved event!

What trends will attract the post corona consumers?

Each of our speakers will make clear adaptions and give direction on both macro trends and clear advice on colour, mood, material and style post corona. Let's meet in these extraordinairy times!

  

Seminar in English.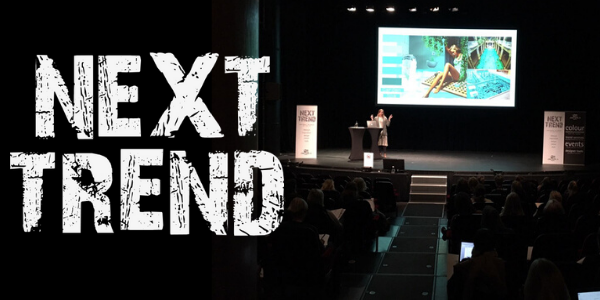 Next Trend Studio welcome you to join our live broadcast online! This means you can attend from home, office or whereever you are. We know our biannual Next Trend events in Stockholm / Göteborg / Köbenhavn are much appreciated IRL since many years. We will do our outmost to translate the right "Next Trend Spirit" into a live broadcast & we encourage you to create your own inhouse Next Trend Event: dress up like you normally do:) plan the meal, have special cake & fruit buffé for the short breaks... You are not alone, we are experiencing the Next Trend Studio live broadcast together & look forward to you sharing images of your take on the day!
DATES: 26 May + 16 June + 11 Aug
TIME: 13:00 - 17:00
Single access 1.950 per person | Unlimited Access per company 39.000
Single access 1.450* per person | Unlimited Access per company 25.000*
*VIP prices
 access available to ColourHouse registered clients who buys Trendbooks & Trendservices AW 21-22. Contact us for more information
here.  Prices SEK ex vat
Our host, Louise Klarsten, ceo and owner of ColourHouse Scandinavia joins you from the Next Trend Studio. - " I look forward to meet you all out there, different circumstances yes, but we will keep the Next Trend Spirit we all love since 13 years of irl events across Scandinavia. Going into a studio and broadcast live is new for us, yet we discover new opportunities every day! We can now easily welcome the whole fashion and design world to join us, that is remarkable and encouraging! Trend forecasting in itself means adapting to the sign of the times, well that's exactly what we do. I wish you all welcome to join me, our remarkable speakers from London, Sydney and New York + our great team at ColourHouse that makes this possible. Thank you all for standing by our vision "to deliver adaptive forecasting with great meaning to the design world", see you! "
Louise Klarsten